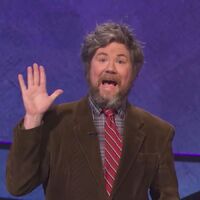 Austin Tyler Rogers (born November 27, 1978) is a bartender from New York City who earned $413,000 throughout 13 shows in 2017. Described by one account as "Krameresque" and by Trebek himself as "outside the box, completely different from what many viewers expect a 'Jeopardy!' contestant to be," Rogers is known for his flair and quirky poses, pantomiming humorous actions when being introduced. Although he does not own a TV, he prepared for qualification by watching a lot of Jeopardy episodes and knowing its tricks. Before James Holzhauer, he was the only contestant with two of the top ten one-day totals: $69,000 on October 3, 2017 (third place), and $65,600 on October 2, 2017 (seventh place). In the 2017 Tournament of Champions, Rogers finished third behind Buzzy Cohen and second-place finisher Alan Lin. All three finalists (including Seth Wilson) appeared at the Jeopardy! All-Star Games tournament relay in 2019. Austin was also a contestant on Cash Cab. He won $2,400 with one other rider doubling their winnings on the video bonus at the end of the trip.
Community content is available under
CC-BY-SA
unless otherwise noted.