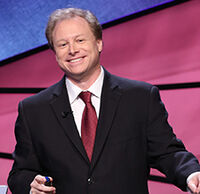 Bob Harris (born October 15, 1963) is a noteworthy multi-time contestant on Jeopardy! Harris first appeared as a contestant in 1997, and won $58,000 as a five-time champion on the show. The following year, Harris finished in third place in the Tournament of Champions behind Kim Worth and Dan Melia. In the first round of the Jeopardy! Million Dollar Masters tournament in 2002, Harris scored an upset victory over Rachael Schwartz and Frank Spangenberg. He would lose in the semifinals, however, to Eric Newhouse. In 2005, Harris competed again on the show, this time in the Jeopardy! Ultimate Tournament of Champions. He won $24,400 and defeated fellow Jeopardy! alumni Frank Epstein and Tom Cubbage in Round 1 of the tournament, but lost in Round 2 to fellow contestants Bruce Borchardt and Michael Daunt. In 2014, Harris competed in the Battle of the Decades. In his match, he finished in third place behind Shane Whitlock and Robin Carroll. Harris has written a book about his experiences on Jeopardy! called Prisoner of Trebekistan. Besides appearing on Jeopardy!, Harris has had success competing on other game shows. In 2000, he participated in a million-dollar winning team on Greed, winning $200,000 for himself. He was also a successful $250,000 phone-a-friend answer for a contestant on Who Wants to Be a Millionaire.
Community content is available under
CC-BY-SA
unless otherwise noted.