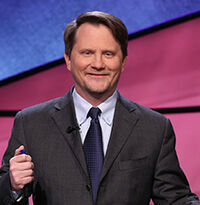 Chuck Forrest (born June 3, 1961) held the record for the largest non-tournament cash winnings total from 1985 to 1989, and the largest all-time winnings from 1986 to 1990. The producers of the show regarded him as one of the best and most memorable contestants of the 1980s. Forrest is widely regarded by other elite Jeopardy! players to be one of the most formidable contestants to ever play. Forrest won five consecutive games from September 30 to October 4, 1985, winning a then-record $72,800 and qualifying for the 1986 Tournament of Champions, which he won, earning another $100,000. Forrest later played on the Super Jeopardy! tournament, the Million Dollar Masters tournament, the Ultimate Tournament of Champions and the Battle of the Decades tournament. Forrest implemented a strategy known as the "Forrest Bounce" to confuse opponents: the strategy involved picking each clue from a different category instead of taking the clues in order. With Mark Lowenthal, Forrest co-wrote the 1992 book Secrets of the Jeopardy! Champions.
Community content is available under
CC-BY-SA
unless otherwise noted.