We're Getting Mutants in the MCU - The Loop
Play Sound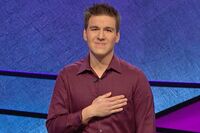 James "The High Roller" Holzhauer (b. July 23, 1984) is a professional sports gambler and game show contestant from Las Vegas, Nevada. He made his first Jeopardy! appearance on April 4, 2019, and went on to win 32 consecutive games, accumulating over $2.4M in cash winnings, and breaking several Jeopardy! records. He is the second highest money-winning contestant in regular season play behind Ken Jennings, and is fourth in games won after Jennings, Matt Amodio, and Amy Schneider. As well, he is the third-highest overall money winner behind Jennings and Brad Rutter.
Jeopardy! Run
[
]
Holzhauer notably holds the top sixteen highest single-day winnings records and is also the only player to win $100,000 or more in a single game during regular play (he accomplished the feat six times). On his fourth game (aired April 9, 2019), Holzhauer broke the single-game record of $77,000 (set by Roger Craig in 2010) with $110,914. Then, he broke his own record with $131,127 on April 17, 2019. He averaged $76,944 per game, which is just $56 off of what Craig won in 2010.
On his 33rd appearance on June 3, 2019, he lost to Emma Boettcher, coming up short of breaking Ken Jennings' cash winnings record in regular competition.
Another thing that sets him apart from other ultrachampions is his extremely low amount of incorrect responses, with just 36 throughout the entire 33 games of his streak; for reference, Jennings, Amodio and Schneider clocked 109, 103, and 62 incorrect responses through the same point in their streaks. He also achieved 212 consecutive correct responses and is the only champion to have back-to-back-to-back perfect games (i.e., games where no incorrect responses are given at any point).
Holzhauer's strategy is what he refers to as "strategically aggressive". He starts with the $1,000 clues and moves his way across the bottom of the board, then does the same with the $800 clues, and so on. This way, he could have as much money as possible when he hit a Daily Double. Upon hitting the Daily Double in the Jeopardy round, he would either wager everything he had, or an important date in his life, as most of his Daily Double wagers are, if he had a high enough bank. The average winning score in Season 34 was $20,022; Holzhauer sometimes had more than that going into the Double Jeopardy round, with a record high of $24,600, set on May 24, 2019, the game he passed the $2 million mark. In his thirty-three games, Holzhauer found seventy-six (76.7%) of the ninety-nine Daily Doubles available and was correct on seventy-two of them (94.7%). Many champions have since adapted Holzhauer's strategy and tactics, including Amodio, who used them to the fullest extent in his 38-game run in 2021.
In November 2019, Holzhauer returned for the 2019 Tournament of Champions (aired November 4-15, 2019). In the two-day finals, he faced off Boettcher in a rematch; but this time, Holzhauer prevailed, winning the tournament and the $250,000 top prize.
After the Tournament of Champions, it was announced Holzhauer will compete for $1,000,000 against Jennings and Rutter on the primetime special Jeopardy! The Greatest of All Time, which aired on ABC from January 7-14, 2020. Holzhauer finished as the first runner-up to winner Ken Jennings but received the $250,000 prize.
The Chase
[
]
Holzhauer appeared on the American version of the quiz show The Chase on September 2, 2014, internationally produced by ITV Studios. In his first round, a one-minute round called the Cash Builder, he correctly answered 12 questions out of 13 posed by host Brooke Burns; the last question was asked just before time expired and was quickly passed on by Holzhauer. His score set a record for the Cash Builder that was never surpassed during the show's run.
In his second round, he faced Mark Labbett to determine whether he would advance to the final round and add money to the team prize pool. Holzhauer had a choice of three amounts to play for: $60,000 based on his score in the Cash Builder, $30,000 to reduce the difficulty of the round; and $120,000, which would increase the difficulty. He chose to play for $60,000; after the show he said that the odds did not favor playing for the maximum amount and that it was not worth the gamble.
The Chase was played head-to-head, with the players using hidden buttons to select multiple-choice answers. Holzhauer advanced to the finals and added to the prize pool with a score of five right and one wrong. Labbett scored a perfect five, with his final answer not revealed since Holzhauer had already achieved the necessary points to win the round.
In the Final Chase round (as team leader with two other contestants also participating), Holzhauer's team defeated Labbett by a score of 26 to 9, earning him a $58,333.33 share of the $175,000 team prize pool. By answering 19 questions correctly for his team, he set a Final Chase record, which was also never surpassed.
Bob Boden, the producer of The Chase, was impressed by his performance and had Holzhauer audition to join the show as a colleague of Labbett. In July 2020, Holzhauer and several other famous game show contestants were said to be in negotiations to become chasers for a potential reboot of The Chase, which would be produced for ABC. The reboot starring Holzhauer, Ken Jennings, and Brad Rutter premiered January 7, 2021 on ABC.
Trivia
[
]
He has a seven-year-old daughter named Natasha, though he is quite fond of calling her "Booger".

He credits Natasha for helping him study for reoccurring topics on The Chase by bringing him books about topics that come up on the show, like sea creatures.

He holds 16 of the top 20 one-day records for Jeopardy, and 20 of the top 25.
He is often affectionately referred to on the show as "Jeopardy James".
He was the last Tournament of Champions Champion in the Trebek era, as the next winner, Sam Kavanaugh, played his ToC with Buzzy Cohen as the host.
The longest standing record he broke was the record for largest successful Daily Double wager - prior to James, the record was set by Bob Beers in 1988, with a pre-doubled $20,000. James equaled or surpassed this record five times, one of which was during the GOAT tournament.
He took the online test thirteen times and made it to an audition two times before finally making it on the show.
He changed his signature for the GOAT tournament every game, as opposed to Ken (changed every match) and Brad (did not change that much throughout).
He was the first ultrachampion (10 or more wins) to go on to win their respective Tournament of Champions. He is also the only one as of January 2022.
According to thejeopardyfan.com, he was making an average of $21,430 per game through Daily Doubles alone. (For reference, the average combined score of his two opponents throughout the entire game was $11,322.)
He is the second person to have at least two of the top ten single day winnings spots; the first was Austin Rogers, who put up $65,600 and $69,000 on back to back days on October 2 and 3, 2017. Prior to James, those scores would have stood at #3 and #4, respectively; now, along with Matt Amodio and Amy Schneider, those two scores stand at #28 and #31. ($65,600 would be placed at #33 if Andy Richter's $68,000 on Celebrity Jeopardy and Skyler Hornback's $66,600 on Kids Week are counted.)