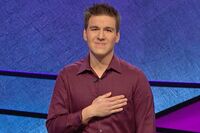 James Holzhauer (b. July 23, 1984) is a professional sports gambler and game show contestant from Las Vegas, Nevada. He made his first Jeopardy! appearance on April 4, 2019, and went on to win 32 consecutive games, accumulating over $2.4M in cash winnings, and breaking several Jeopardy! records. He is the second highest-winning contestant, behind Ken Jennings, both in terms of games won and regular-game winnings; he is the third-highest overall money winner behind Jennings and Brad Rutter.
Jeopardy! Run
[
]
Holzhauer notably holds the top sixteen highest single-day winnings records, and is also the only player to win $100,000 or more in a single game during regular play (he accomplished the feat six times). On his fourth game (aired April 9, 2019), Holzhauer broke the single-game record of $77,000 (set by Roger Craig in 2010) with $110,914. Then, he broke his own record with $131,127 on April 17, 2019. He averaged $76,944 per game, which is just $56 off of what Craig won in 2010.
On his 33rd appearance on June 3, 2019, he lost to Emma Boettcher, coming up short of breaking Ken Jennings' cash winnings record in regular competition.
In November 2019, Holzhauer returned for the 2019 Tournament of Champions (aired November 4-15, 2019). In the two-day finals, he faced off Boettcher in a rematch; but this time, Holzhauer prevailed, winning the tournament and the $250,000 top prize.
After the Tournament of Champions, it was announced Holzhauer will compete for $1,000,000 against Jennings and Rutter on the primetime special Jeopardy! The Greatest of All Time, which aired on ABC from January 7-14, 2020. Holzhauer lost to Ken Jennings but received the $250,000 runner-up prize.
Trivia
[
]
On September 2, 2014, prior to his Jeopardy! fame, Holzhauer competed on the American version of The Chase, where he won $58,333.33.

This is just under the $60,013 he bet in his tenth game to achieve the $131,127 record that still stands today.

He also competed on 500 Questions on May 22, 2015.
As of 2021, he is one of four "chasers" on ABC's revival of The Chase", along with Jennings, Rutter, and Mark "The Beast" Labbett.'
He has a six-year-old daughter named Natasha, though he is quite fond of calling her "Booger".
He holds sixteen of the top twenty one-day records for Jeopardy, and twenty of the top twenty-five.
He is often affectionately referred to on the show as "Jeopardy James".
He was the last Tournament of Champions Champion in the Trebek era, as the next winner, Sam Kavanaugh, played his ToC with Buzzy Cohen as the host.