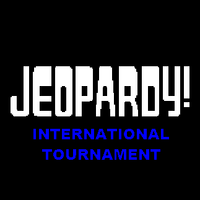 The Jeopardy! International Tournament was a 1 week event that featured champions from various international versions of Jeopardy! All the players who participated in the tournament spoke English fluently. Each tournament resembled the second half of one of Jeopardy's regular two week tournaments, with nine contestants competing in 3 semifinal games before the finals, but the 1996 tournament had a one day final rather than a two day final. Winners received $25,000 in the first two installments, and $50,000 in 2001. Contestants from the American, Danish, German, Russian, and Swedish versions of Jeopardy! competed in each event, among representatives from other international versions of the show.
The 1996 Olympic Games Tournament was taped in Los Angeles, and won by Swedish champion Ulf Jensen (who had defeated Ryan Holznagel, winner of the American version's last Tournament of Champions, in the semifinals.) The next year's was held in Stockholm, Sweden on their version's set, and was won by Canada's Michael Daunt, a finalist in the American version's previous Tournament of Champions (reigning U.S. champ Michael Dupée could not attend, so recent 3 day champion Gay Mollette took his place.) The 2001 International Tournament was held in Las Vegas, Nevada, where reigning U.S. Tournament of Champions winner Robin Carroll won, making her the American version's highest earning champion at the time.
| Season | Airdate | Finale | Winner |
| --- | --- | --- | --- |
| 12 | July 8, 1996 | July 19, 1996 | Ulf Jensen (Sweden) |
| 13 | May 5, 1997 | May 16, 1997 | Michael Daunt (Canada) |
| 17 | February 12, 2001 | February 23, 2001 | Robin Carroll (U.S.A.) |
Season 12
Edit
Season 13
Edit
Season 17
Edit
Community content is available under
CC-BY-SA
unless otherwise noted.