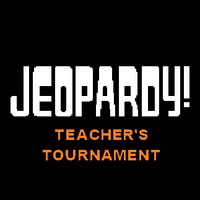 The Jeopardy! Teachers Tournament debuted in May 2011. It features 15 teachers competing in the same 2-week format as the Tournament of Champions, Teen Tournament, and College Championship.
In addition to the aforementioned cash prize, the winner also earns an automatic spot in the next Tournament of Champions, although one winner (Larry Martin in 2018) died from Pancreatic cancer before reaching that tournament.
So far, two Teachers Tournaments winners have made it to the finals of the Tournament of Champions (Colby Burnett in 2013 and Francois Barcomb in 2019); only Burnett won the event.
2016 winner Jason Sterlacci is only other winner to advance to the semi-finals of the Tournament of Champions.
Burnett was also invited back to the Battle of the Decades in 2014 where he advanced to the semifinals, and was team captain in the All-Star games in 2019, where he drafted 2017 Tournament of Champions finalist Alan Lin and November 2000 College Champion Pam Mueller as his team members. His team finished as the second runner-up in the event.
2015 winner Jennifer Giles also competed in the All-Star games, as a member of Team Buzzy Cohen.
The 2020 Teacher Tournament were last weeks to be taped with a studio audience before the show continued to tape with one due to the COVID-19 pandemic.
John Pearson was the alternate in the the All-Star games.
There was no Teachers Tournament held in Season 37, partially due to rotating guest hosts and travel restrictions related to the COVID-19 pandemic that were in effect during parts of that season.
| Season | Airdate | Finale | Winner | School |
| --- | --- | --- | --- | --- |
| 27 | May 2, 2011 | May 13, 2011 | Charles Temple | The Ocracoke School |
| 28-A | February 15, 2012 | February 28, 2012 | Patrick Quinn | Ritenour High School |
| 29-B | November 7, 2012 | November 20, 2012 | Colby Burnett | Fenwick High School |
| 30 | November 11, 2013 | November 22, 2013 | John Pearson | Austin Elementary School |
| 31 | February 2, 2015 | February 13, 2015 | Jennifer Giles | Columbine Elementary School |
| 32 | May 2, 2016 | May 13, 2016 | Jason Sterlacci | Burnet Middle School |
| 33 | May 8, 2017 | May 19, 2017 | David Clemmons | Keller High School |
| 34 | May 7, 2018 | May 18, 2018 | Larry Martin | Belinder Elementary School |
| 35 | May 6, 2019 | May 17, 2019 | Francois Barcomb | Hendrick Hudson High School |
| 36 | May 25, 2020 | June 5, 2020 | Ben Henri | Grosse Pointe North High School |
Gallery
[
]