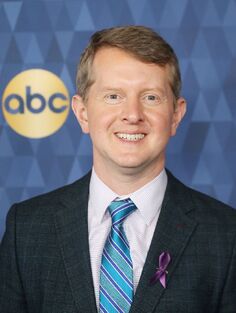 Kenneth Wayne Jennings III (b. May 23, 1974) is an author and software engineer. He is best known for winning 74 consecutive games on Jeopardy!, where he accumulated $2,522,700.
His original run lasted from June 2, 2004 until November 30, 2004. On his 38th game (aired July 23, 2004, also the Season 20 finale), Jennings set a new one day record with $75,000.
He was defeated by Nancy Zerg on his 75th appearance, which aired November 30, 2004.
At the time of his original run, Jennings became the highest money winner on a game show. Because of his accomplishments, the producers elected to hold the Ultimate Tournament of Champions featuring 145 former notable champions to try and compete with Jennings, who was an automatic finalist. The event lasted from February to May 2005. In the three-day finals, Jennings matched with Brad Rutter and Jerome Vered. Rutter ultimately prevailed in the finals, winning the $2,000,000 top prize, and surpassing Jennings as the biggest game show money winner.
In 2011, Jennings and Rutter returned to the stage to face off in a two-day exhibition match against the IBM supercomputer Watson. Both finish in second and third place, respectively. But because the match was an exhibition, it didn't count towards show records.
Then in 2014, Jennings and Rutter were once again invited back for the Battle of the Decades tournament (which was held in honor of the show's 30th anniversary season). Both face off in the two-day finals against Roger Craig. Rutter once again prevailed over Jennings, winning the $1,000,000 top prize and reclaiming the game show record.
In 2019, Jeopardy! held the All-Star Games, in which eighteen former champions were put into six groups of three, led by six team captains. Ken Jennings & Brad Rutter were two of the team captains, and their respective teams were named Team Ken and Team Brad. Both Jennings' and Rutter's teams made it to the finals where they faced off against team Colby (led by Colby Burnett). Team Ken finished second to Team Brad, splitting a $300,000 prize among Jennings, Matt Jackson, and Monica Thieu.
Shortly after James Holzhauer won the 2019 Tournament of Champions, it was announced that Jennings would be competing against Rutter and Holzhauer for $1,000,000 in the Greatest of All Time special, which aired in January 2020. In the event, Jennings emerged victorious, handing Rutter his first defeat to a human opponent, reclaiming the game show record, and earning the G.O.A.T. title.
During the show's 37th Season, Ken Jennings joined the Jeopardy! staff as a consulting producer, and provided video clues in some episodes. Shortly after the death of longtime host Alex Trebek, Jennings served as the first of several guest hosts to finish off the season. His episodes aired from January 11 to February 19, 2021.
Beginning on Season 38, Ken Jennings will serve as guest host alongside Mayim Bialik for the rest of 2021 after executive producer Mike Richards stepped down as the permanent host and was fired as executive producer as well.
Trivia
[
]
His single game winnings record of $75,000 was later broken by Roger Craig in 2010 ($77,000) and then by James Holzhauer twice in 2019 ($110,914 and $131,127) and Matt Amodio in 2021 ($83,000).
Ken Jennings appeared on other game shows such as Who Wants To Be A Millionaire, The Chase, and Are You Smarter Than A Fifth Grader?.

When he was a contestant on Are You Smarter Than A Fifth Grader?, he won $500,000, enough to reclaim the biggest game show money winner record from Brad Rutter.

He was one of three chasers on a revival of The Chase in 2021, with Holzhauer and Rutter as the other chasers. In Season 2, they were joined by "The Beast" Mark Labbett.
WatchMojo ranked Ken Jennings as #3 on the Top 10 Jeopardy Guest Hosts.