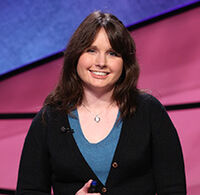 Larissa Kelly (born February 10, 1980) is a noted American multiple Jeopardy! winner, currently residing in Richmond, California. She is a writer and academic.
Biography
Edit
Kelly grew up in Newton, Massachusetts and attended Newton North High School where she helped lead the science bowl team to national competition. She graduated from Princeton University in 2002 and completed a Ph.D at the University of California, Berkeley, studying the history of archaeology in 19th century Mexico. She played quiz bowl at both Princeton and Berkeley. On August 3, 2002, she married her quiz bowl teammate Jeff Hoppes.
She is one of three members of her family to have played on Jeopardy!, all between 2004 and 2008, and the only winner of the three. Her husband was defeated by Jennings in Jennings' 70th game as champion. Her sister Arianna was defeated in her initial Jeopardy! appearance, in part due to questionable calls that prompted Standards and Practices to bring her back for a second appearance; in her second appearance, Arianna was defeated by Aaron Schroeder, who later faced Larissa in the 2009 Jeopardy! Tournament of Champions finals.
In the 2009 Jeopardy! Tournament of Champions in Las Vegas, Kelly won her quarterfinal and semifinal matches and led after the first game of the two-game finals, with $24,400 to Dan Pawson's $22,301. She lost to Pawson in the second game after she missed the Final Jeopardy! clue, which required identifying George II of Great Britain as the last British ruler to be born outside the United Kingdom. She won $100,000 for finishing second.
Kelly is a science fiction author, who has had one story published at Strange Horizons.
Community content is available under
CC-BY-SA
unless otherwise noted.