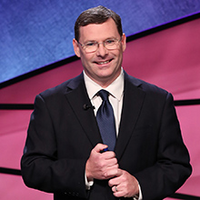 Michael George "Mike" Dupée (born October 23, 1966) originally appeared on Jeopardy! in 1996, and won the Tournament of Champions that same year. In 2005, Dupée participated in the Ultimate Tournament of Champions. He won his first match, but was defeated by Robert Slaven in his second game of the tournament. Nine years later, in 2014, Dupée competed in the Jeopardy! Battle of the Decades tournament, where he was defeated in the first round by Brad Rutter. Dupée's total winnings on Jeopardy! is $203,901, including $66,401 won during his original five-day run; $100,000 for winning the Tournament of Champions in 1996; $32,500 from the Ultimate Tournament of Champions; and $5,000 from the show's Battle of the Decades. Ken Jennings praised Dupée's book, How to Get on Jeopardy! and Win!, claiming it was the best preparation for competing on Jeopardy! In this book, which he wrote following his success on Jeopardy!, Dupée wrote about his experience on the show and also provided practice questions for aspiring contestants.
Community content is available under
CC-BY-SA
unless otherwise noted.