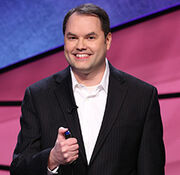 Roger Alan Craig (b. 1977) is a computer scientist from Newark, Delaware. He first appeared on Jeopardy! on September 13, 2010 (the Season 27 premiere) and went on to be a six-time champion. On his second appearance, which aired on September 14, 2010, he broke the single-day cash winnings record with $77,000, eclipsing the previous record of $75,000 set by Ken Jennings in 2004. Craig's record stood until 2019 when James Holzhauer eclipsed it with $110,914 and then broke his own record with $131,127. In 2021, Matt Amodio also passed Craig after earning $83,000.
In 2011, Roger Craig returned to the stage to compete in that year's Tournament of Champions. During the Double Jeopardy! round in the first day of the two-day finals, he uncovered the first of back-to-back Daily Doubles with a $9,000 score. He wagered everything and responded correctly, doubling his score to $18,000. Immediately after that, he uncovered the second Daily Double; again, he bet everything and responded correctly, doubling his score to $36,000. Due to his performance, he won the tournament and the $250,000 top prize.
Craig was invited back to compete in the Battle of the Decades tournament in 2014. He made it to the finals to face off against Ken Jennings and Brad Rutter, but he finished as the second runner-up.